North Forest Kreme Walnut Recipes
Neat, or on the rocks...
Fill a low ball glass full of ice, pour North Forest Walnut Kreme over top and enjoy. Or, shake over ice and serve chilled. Enjoy!
In a thin mint...
Mix all ingredients in a cocktail shaker with ice and strain over ice
2 oz North Forest Walnut Kreme
1 oz Creme De Menthe
1 oz Vodka
In a white russian...
Fill Low Ball glass with ice
2 oz. Vodka
1 oz. North Forest Walnut Kreme
Top with Heavy Cream and stir
In coffee or hot cocoa...
Add a splash of North Forest Walnut Kreme to your coffee or hot cocoa for a flavorful blast of maple syrup and black walnuts
In a mudslide...
Combine and blend ingredients until smooth
Drizzle chocolate inside a chilled glass
1 Part North Forest Kreme Walnut
1.5 Parts Ice Cream
1 Part Vodka
WALNUT AND BOURBON HOT CHOCOLATE
This boozy bourbon hot chocolate is spiked with a secret ingredient, North Forest Kreme™ Walnut, which adds a luxurious layer of buttery walnut flavor to an outrageously comforting cup of cocoa. Grab yourself a cup and cozy up in front of the fireplace, and let each silky sip bring you and your loved ones some well earned holiday cheer.
WHAT ALCOHOL PAIRS BEST WITH HOT CHOCOLATE?
Bourbon whisky is a classic addition to hot chocolate, but brandy is also equally well suited to craft spiked hot chocolate. However, there is no reason you need to stop there. Cream liqueurs add a wonderfully silky texture to the drink while taking the flavor to a whole new level entirely.
North Forest Kreme™ Walnut Liqueur is soon to be your not so secret weapon when crafting cocoas that will have your family and friends raving. The buttery and nutty flavor plays exceptionally well with bourbon and chocolate while adding that little something you never knew was missing! It is not only great mixed in hot chocolate, it is perfect to savor on the rocks, or simply straight up.
HOW TO MAKE HOT CHOCOLATE?
The best hot chocolate cocktail deserves the best hot chocolate, right? For that, we make the hot chocolate from scratch which ensures the deepest chocolate flavor and the silkiest texture. I swear, it is like drinking liquid gold, except chocolate flavored, and not nearly as scalding as drinking liquid metals. OK, maybe that was a terrible analogy.
We are using my homemade hot chocolate recipe as a base for this boozy drink. To craft the hot chocolate, begin by melting two ounces of semisweet chocolate in a saucepan with ¼ cup of milk. Whisk this well to combine.
In a separate pan, add a separated egg yolk and heat on low to cook it while whisking. Your goal is to heat it without it curdling. If it does curdle, just toss it out and grab a new egg.
Once the yolk is heated, the melted chocolate mixture can be combined with the yolk and whisked together. At this time, an additional ¾ cup of milk can be added to finish the drink.
A creamy cup of cocoa is great to enjoy on its own, however, I add a dash of bitters and a squeeze of orange to liven this drink up, however, this is optional. Bitters add an edge to the drink, while a lively punch of citrus wakes up the flavors!
CAN I USE A HOT COCOA MIX?
Yes, absolutely you can use a packet of hot cocoa mix, however, your cocoa will be considerably creamier if you make it from scratch, but I understand you don't always want to mess around with that. If using cocoa from a packet I recommend buying a premium brand of hot chocolate as it will have better flavor and texture.
MORE WAYS TO FLAVOR HOT COCOA
North Forest Kreme™ Walnut isn't the only exceptional addition to cocoa. There are a variety of North Forest Kremes that are begging for your experimentation. My top suggestions for mixing with hot cocoa would be the Peppermint Kreme, Maple Bourbon Pecan, and Huckleberry Vanilla. These can be added with bourbon or brandy, or simply used on their own without the stronger spirits.
There are six flavors of North Forest Kremes available just waiting for your experimentation. Enjoy them all as the official drink of sweater weather!
Walnut and Bourbon Hot Chocolate
This is no ordinary bourbon hot chocolate, this cocoa is spiked with walnut liqueur, adding a luxurious buttery walnut flavor to your cup.
Prep Time: 3 minutes
Cook Time: 1 minute
Total Time: 4 minutes
Servings: 1
Calories: 524kcal
Author: Fox Valley Foodie
Ingredients
1 cup hot chocolate
½ ounce bourbon whisky
½ ounce North Forest Kreme™ Walnut
1 dash bitters
1 slice orange (optional)
Instructions
Heat hot chocolate and pour one cup into a mug with liquors, add a dash of bitters and a squeeze of orange (optional).

Stir gently to combine.

Serve immediately.
Notes
For the creamiest drink, I recommend using my homemade hot chocolate recipe, however, store-bought hot chocolate can be used for simplicity. The quantity of whiskey and North Forest Kreme™ Walnut can be adjusted to fit your tastes.
Nutrition
Calories: 524kcal | Carbohydrates: 92g | Protein: 4g | Fat: 18g | Saturated Fat: 12g | Sodium: 1020mg | Fiber: 5g | Sugar: 73g | Vitamin C: 7mg | Calcium: 120mg | Iron: 2mg
North Forest Kreme Hot Chocolate
I'm excited to partner with North Forest Kreme™ to bring you this original recipe. Our delicious and easy spiked hot chocolate is the perfect warm drink for adults to enjoy this holiday season. Made from scratch with creamy milk, rich chocolate, and North Forest Kreme™ Walnut Liqueur topped with homemade whipped cream, this boozy hot chocolate is irresistible!
Craving more hot chocolate ideas? Try our hot chocolate on a stick or our frozen hot chocolate as well.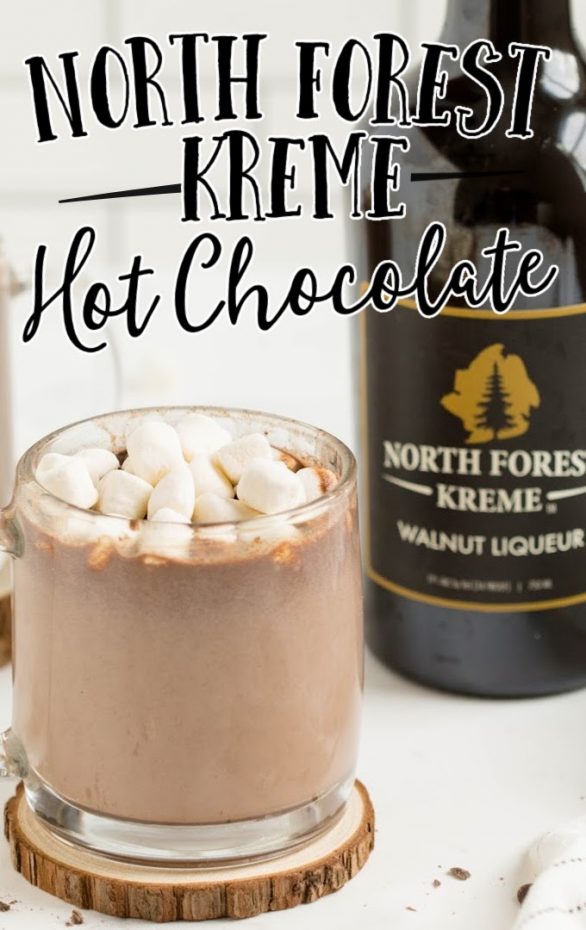 MORE HOT CHOCOLATE RECIPES
Hot Chocolate Bombs | Instant Pot Hot Chocolate
Spiked Hot Chocolate Ingredients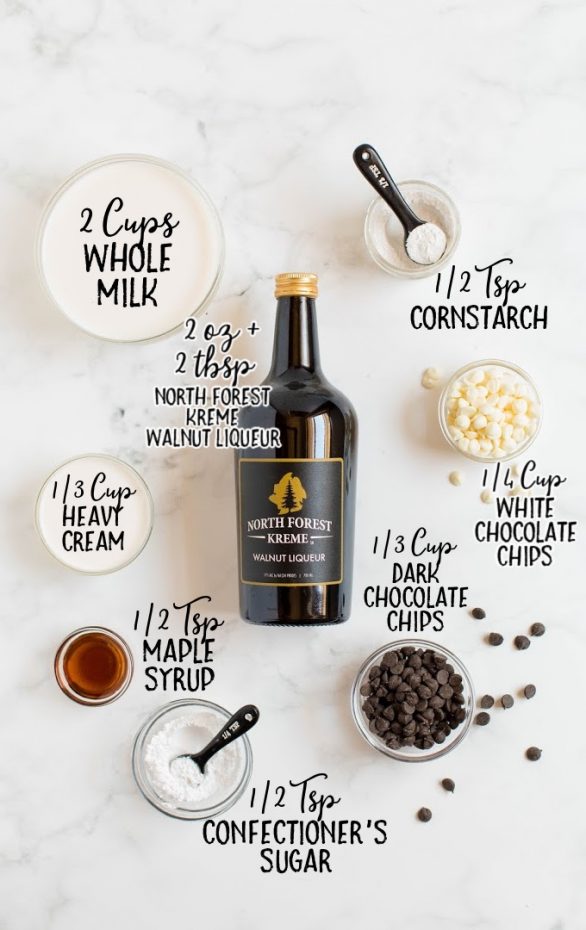 You will need...
For the hot chocolate:
2 cups whole milk
1/2 teaspoon cornstarch
1/3 cup dark chocolate chips
1/4 cup white chocolate chips
2 ounces North Forest Kreme™ Walnut Liqueur (Click Here to find it in a store near you!)
For the maple whipped cream:
1/3 cup heavy cream
2 tablespoon North Forest Kreme™ Walnut Liqueur
1/2 teaspoon confectioners sugar
1/2 teaspoon maple syrup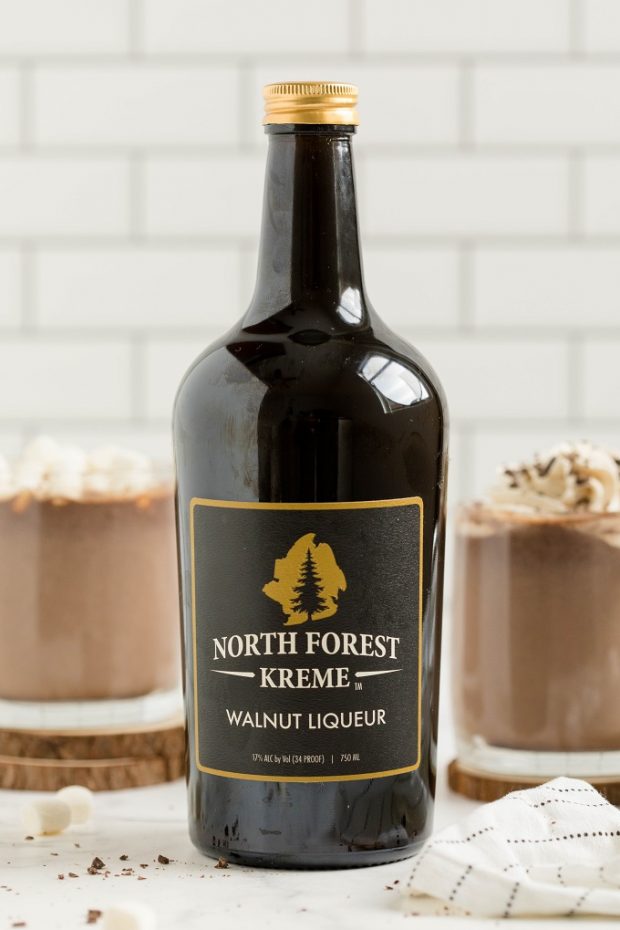 I love the North Forest Kreme Liqueur in this recipe -- the flavors are irresistible and the finish is so smooth. They're the "Official Drink of Sweater Weather" after all so it's certainly the season to enjoy them!
You'll enjoy North Forest Kreme in this cocktail -- but you should also try them on the rocks, or straight up! The quality and taste cannot be beat.
I'm featuring their North Forest Walnut Kreme today, but you could easily try the other flavors to see which is your favorite with this spiked hot chocolate. They also offer Maple Bourbon, Pumpkin Kreme, Peppermint Press, and Huckleberry Vanilla. Yum!

Additions and Substitutions

DRIZZLE: Add a drizzle of dark chocolate, white chocolate, or caramel sauce to the top of your drink before serving.
MARSHMALLOWS: Add a few marshmallows to each glass instead of the homemade whipped cream.
CINNAMON: Add a dash of cinnamon to the mix for another layer of flavor.
VANILLA EXTRACT: Add a few drops of vanilla extract.
NUTMEG: You could add a pinch of nutmeg to this as well.
SHAVINGS: Everything is better with a little extra chocolate! ;) Add some dark or white chocolate shavings on top before serving.

How to Make This Spiked Hot Chocolate Recipe
STEP ONE: In a medium sauce pan, combine milk and cornstarch. Whisk until smooth.
STEP TWO: Heat milk on medium high heat, stirring frequently, until it begins to boil.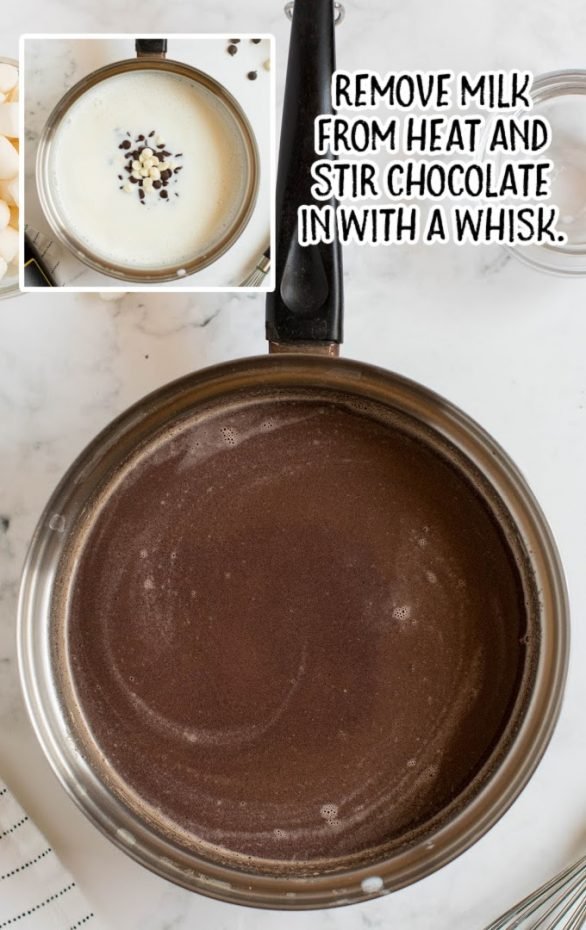 STEP THREE: Remove from heat and stir in chocolate.
STEP FOUR: Add North Forest Kreme™ Walnut Liqueur -- or any of their other flavors.
STEP FIVE: In a small bowl, mix the heavy cream, North Forest Kreme™ Walnut Liqueur, confectioners sugar, and maple syrup. Whip until stiff peaks form.
STEP SIX: Top with your homemade maple whipped cream or marshmallows.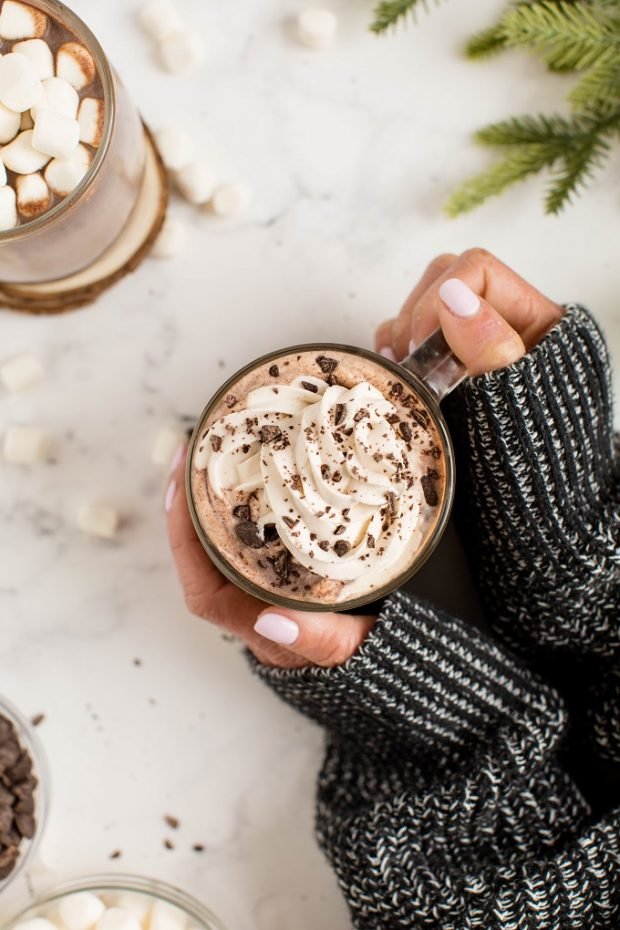 This creamy homemade spiked hot chocolate will become a favorite drink for years to come. Simple, quality ingredients combine to make a smooth, rich, irresistible flavor that is perfect for the chill of winter.